The special suction/feed hose is an accessory which can fit all POWER pressure test pumps model TP.
With 2 m. length and suction height, liquids are easily pumped directly from tanks, cans, buckets etc.
The hose can also be connected directly to a tap and in that way supply the POWER TP with water in large quantities which makes the pumping work much easier.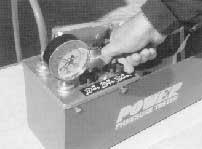 POWER TP pumps have on/off ball valves.
Only 1/4 turn of the T-handle is required for the operation.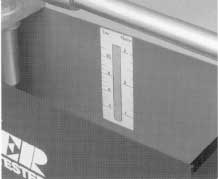 The water level measure on the inside of the tank shows the quantity of which has been pumped.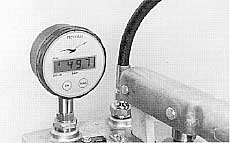 The standard manometer is easily replaced by the new POWER digital manometer.
Precise reading of rising/falling pressure.
Precision class 0.5.
Choose ordinary measurement of the present pressure - or PEAK - in which case the digital manometer will show the maximum obtained pressure.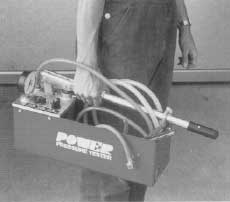 Please notice how handy the POWER test pumps are shaped for carrying. A heavy shackle locks the long pumping bar with a single grasp and enables you to use it as a handle. In the tank, the craftsman can carry hoses and various tools required for his job.
Additional accessories
Digital manometer with PEAK function class 0.5
5 m pressure hose
2 m suction/feed hose with connection kit.
Various POWERfix quick connectors for threads etc.